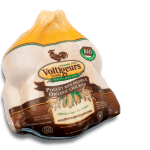 Before the Organic Chicken label can be placed on a packaging, many stages are involved. The chickens are raised in an all-natural environment, with natural lighting and access to the outdoors and to perches, freely accessible at all times.
The type of feed is equally important, only receiving entirely organic vegetable grain and fresh water.Organic Chicken offered by La Ferme des Voltigeurs meets all these standards as well as Ecocert Canada.
Come and taste our delicious chicken. Click here!.
Certified 100% organic
Fed organic vegetable grains
Drink pure water
Free of antibiotics, ggrowth hormones and GMO's
Access to outdoors
ECOCERT A leader in organic and environmental certification in Canada, Ecocert ensures that products meet organic production standards.